Delta Is Trading Below Fair Value But No Reason to Own Airline Shares
RJ is a member of The Motley Fool Blog Network -- entries represent the personal opinion of the blogger and are not formally edited.
As part of our process, we perform a rigorous discounted cash-flow methodology that dives into the true intrinsic worth of companies. In Delta's (NYSE: DAL) case, we think the firm is fairly valued at $17 per share, significantly higher than where it is currently trading. However, we demand a very large margin of safety on airline shares, and even this amount of upside potential is not enough for us to get our feet wet.
For some background, we think a comprehensive analysis of a firm's discounted cash-flow valuation and relative valuation versus industry peers, is the best way to identify the most attractive stocks at the best time to buy. This process culminates in what we call our Valuentum Buying Index (click here for an in-depth narrated presentation on our methodology), which ranks stocks on a scale from 1 to 10, with 10 being the best.
If a company is undervalued both on a DCF and on a relative valuation basis, it scores high on our scale. Delta posts a VBI score of 3 on our scale, reflecting our 'fairly valued' DCF assessment and unattractive relative valuation versus peers. Delta finds itself near the bottom of the industry based on our VBI score; we use Southwest (NYSE: LUV), United Continental (NYSE: UAL), and US Airways (NYSE: LCC) for its peer group.
Our Report on Delta
click to enlarge images
Investment Considerations
Our Primer on the Airline Industry
"The worst sort of business is one that grows rapidly, requires significant capital to engender the growth, and then earns little or no money. Think airlines. Here a durable competitive advantage has proven elusive ever since the days of the Wright Brothers. Indeed, if a farsighted capitalist had been present at Kitty Hawk, he would have done his successors a huge favor by shooting Orville down."
-- Warren Buffett, annual letter to Berkshire Hathaway shareholders, 2008.
The airline industry has undergone meaningful changes since the beginning of the last decade. The painful restructuring of labor agreements and balance sheets by most of the legacy carriers via Chapter 11, the significant mega-mergers of Delta/Northwest, UAL/Continental, US Airways/America West, and Southwest /AirTran, the introduction of ancillary revenue streams to combat rising fuel costs, and the continued efforts to rightsize domestic capacity to slow the long downward trend in real yields are but a few. While unarguably these are steps in the right direction, airlines remain shackled to the poor structural characteristics of their industry. Absent implicit price collusion across every participant within the domestic landscape (a very unlikely event), airline stocks should solely be viewed as speculative bets or hedges on the trajectory of the economy (passenger travel) and the direction of crude oil prices, and not as long-term investments.
Perhaps the most enlightening of analysis of an airline's business model is to test the sensitivity of its profitability and cash flow to changes in the forecasts of a few industry-accepted metrics: revenue per available seat mile (RASM) and cost per available seat mile -- CASM. RASM, or unit revenue, is a function of yield (pricing) and capacity utilization (load factor), while CASM, or unit cost, is predominantly driven by jet fuel prices and labor. The difference of the two represents unit profit, or the profit generated by an airline to fly one seat one mile. Due to the tremendous operating leverage inherent to airline business models non-pursuant to capacity purchase agreements (regional airlines operate on cost-plus arrangements), it becomes readily apparent that even minor changes in these key metrics can have large implications on profitability, cash flow and ultimately the fair value of an airline's equity. And while operating leverage may spell opportunity should these metrics move in favorable directions, the wide range of potential outcomes in forecasting these metrics suggests that most airline stocks should be viewed as no more than boom-or-bust, speculative vehicles.
As many airline executives may attest, both unit revenue and unit cost are largely out of their control. For one, air travel service is largely commodified and suffers from substantial and intense fare competition driven by severe price transparency and the unavoidable concept of perishable inventory -- when a flight takes off, empty seats cannot be filled. Such a combination is the weight that keeps real pricing (yield) growth from being sufficient to meaningfully alter the long-term economics of the industry. To do this day, network airlines are still forced to match fares offered by low-cost carriers or suffer even greater revenue declines. Fare increases can only be sustained if they are matched permanently by low-cost peers (like Southwest or JetBlue (NASDAQ: JBLU), for example).
Further, with barriers to entry primarily limited to capital costs (any US carrier deemed fit by the Department of Transportation can operate passenger service in the US), it's safe to assume that we haven't seen the last domestic start-up, even after the most recent failure of upstart Skybus. The mere existence of interested, economically-tied parties -- like Boeing, for example -- seem to suggest that new entrants will always pose a threat to dump unwanted capacity on otherwise healthy routes. Perhaps unsurprisingly, one can even tap Boeing's expertise in launching an airline. The poor performance of systemwide--domestic and international--real yields (pricing) across US airlines is very unlikely to change anytime.
As an airline's unit revenue is pressured by intense pricing competition, its unit cost is significantly impacted by the price and volatility of jet fuel. According to the Air Transport Association, jet fuel now represents more than a quarter of industry operating costs, surpassing labor expenses as the largest cost item. Although airlines may hedge fuel to some extent, such a strategic move is financial and should not be viewed as an operational boost or any sort of sustainable competitive advantage. And due to the presence of low-cost providers, network carriers have traditionally found it difficult to hike fares or charge additional fees sufficient enough to pass along these rising energy costs. Delta's foray into owning a refiner is admirable, but the impact remains to be seen.
With more than 160 airlines failing since deregulation in 1978, the structural characteristics of the airline industry do not lend itself to long-term investing, and even meaningful shifts in the industry landscape over the last decade have done little to change this. Equity or option speculators with firm conviction in the trajectory of the economy (passenger travel) and the direction of crude oil prices may make some money in the near term, but long-term investors will inevitably be left holding the bag, especially if they find themselves holding shares of legacy, network carriers (such as AMR or US Airways, for example). As Warren Buffett would probably agree, savvy investors can find better places to put their money than the airline industry.
Investment Highlights
Although Delta has put up decent economic profits during the past few years, these returns have not come without volatility. Such business performance indicates heightened risk with respect to the firm's ability to continue to put up strong results.
The company looks fairly valued at this time. We expect the firm to trade within our fair value estimate range for the time being. If the firm's share price fell below $9, we'd take a closer look. But even still, we'd be hesitant to jumping into the name.
Delta 's cash flow generation and financial leverage are at decent levels, in our opinion. The firm's free cash flow margin and debt-to-EBITDA metrics are about what we'd expect from an average firm in our coverage universe.
Furthermore, the firm's share price performance has been roughly in line with that of the market during the past quarter. We'd expect the firm's stock price to converge to our fair value estimate within the next three years, if our forecasts prove accurate.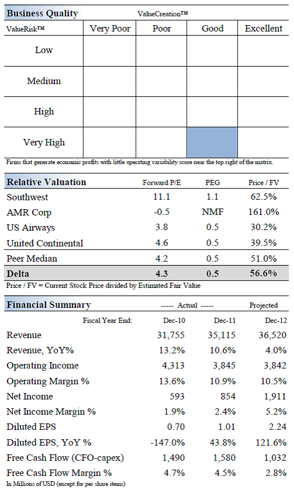 Economic Profit Analysis
The best measure of a firm's ability to create value for shareholders is expressed by comparing its return on invested capital -- (ROIC) -- with its weighted average cost of capital (WACC). The gap or difference between ROIC and WACC is called the firm's economic profit spread. Delta 's 3-year historical return on invested capital (without goodwill) is 8.4%, which is above the estimate of its cost of capital of 7.7%. As such, we assign the firm a ValueCreation™ rating of GOOD. In the chart below, we show the probable path of ROIC in the years ahead based on the estimated volatility of key drivers behind the measure. The solid grey line reflects the most likely outcome, in our opinion, and represents the scenario that results in our fair value estimate.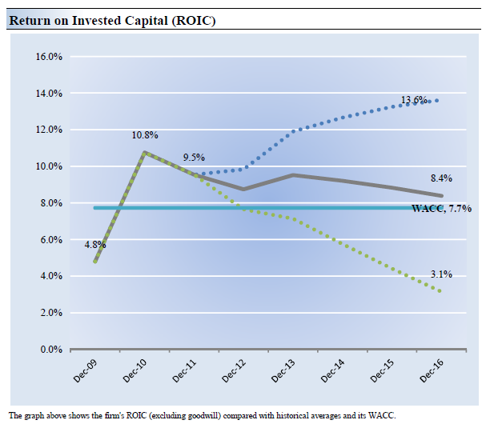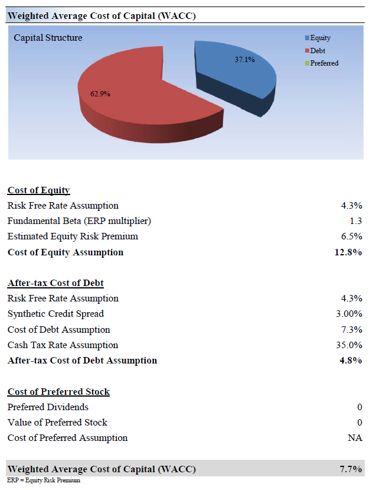 Cash Flow Analysis
Firms that generate a free cash flow margin (free cash flow divided by total revenue) above 5% are usually considered cash cows. Delta's free cash flow margin has averaged about 3.3% during the past 3 years. As such, we think the firm's cash flow generation is relatively MEDIUM. The free cash flow measure shown above is derived by taking cash flow from operations less capital expenditures and differs from enterprise free cash flow (FCFF), which we use in deriving our fair value estimate for the company. For more information on the differences between these two measures, please visit our website at DCF Model. At Delta, cash flow from operations increased about 106% from levels registered two years ago, while capital expenditures expanded about 4% over the same time period.
Valuation Analysis
Our discounted cash flow model indicates that Delta 's shares are worth between $9 and $26 each, a huge range. The margin of safety around our fair value estimate is driven by the firm's VERY HIGH ValueRisk™ rating, which is derived from the historical volatility of key valuation drivers. The estimated fair value of $17 per share represents a price-to-earnings (P/E) ratio of about 16.8 times last year's earnings and an implied EV/EBITDA multiple of about 6.2 times last year's EBITDA. Our model reflects a compound annual revenue growth rate of 1.6% during the next five years, a pace that is lower than the firm's 3-year historical compound annual growth rate of 15.7%. Our model reflects a 5-year projected average operating margin of 11%, which is above Delta's trailing 3-year average. Beyond year 5, we assume free cash flow will grow at an annual rate of 1.3% for the next 15 years and 3% in perpetuity. For Delta, we use a 7.7% weighted average cost of capital to discount future free cash flows.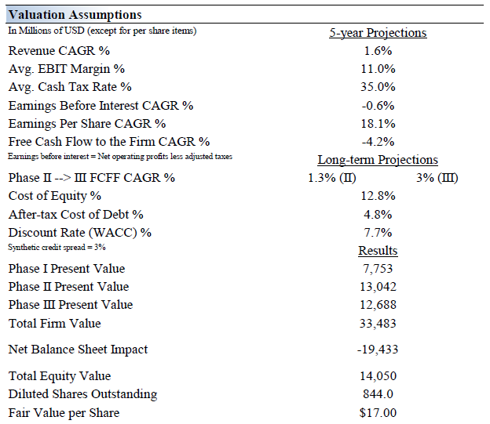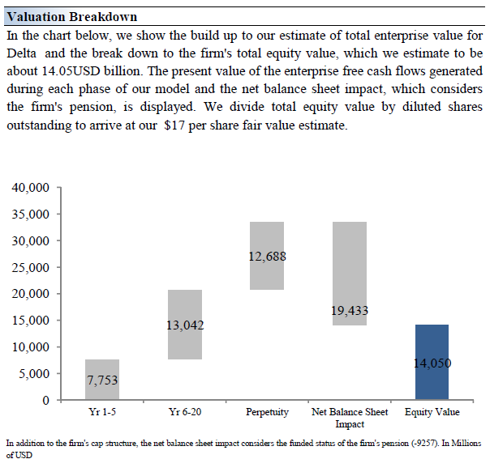 Margin of Safety Analysis
Our discounted cash flow process values each firm on the basis of the present value of all future free cash flows. Although we estimate the firm's fair value at about $17 per share, every company has a range of probable fair values that's created by the uncertainty of key valuation drivers (like future revenue or earnings, for example). After all, if the future was known with certainty, we wouldn't see much volatility in the markets as stocks would trade precisely at their known fair values. Our ValueRisk™ rating sets the margin of safety or the fair value range we assign to each stock. In the graph below, we show this probable range of fair values for Delta. We think the firm is attractive below $9 per share (the green line), but quite expensive above $26 per share (the red line). The prices that fall along the yellow line, which includes our fair value estimate, represent a reasonable valuation for the firm, in our opinion.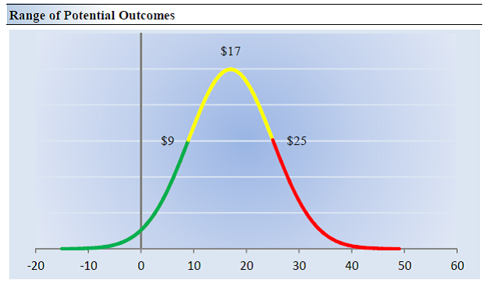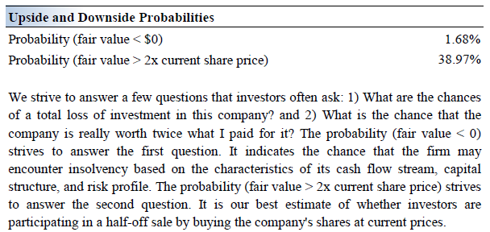 Future Path of Fair Value
We estimate Delta's fair value at this point in time to be about $17 per share. As time passes, however, companies generate cash flow and pay out cash to shareholders in the form of dividends. The chart below compares the firm's current share price with the path of Delta's expected equity value per share over the next three years, assuming our long-term projections prove accurate. The range between the resulting downside fair value and upside fair value in Year 3 represents our best estimate of the value of the firm's shares three years hence. This range of potential outcomes is also subject to change over time, should our views on the firm's future cash flow potential change. The expected fair value of $24 per share in Year 3 represents our existing fair value per share of $17 increased at an annual rate of the firm's cost of equity less its dividend yield. The upside and downside ranges are derived in the same way, but from the upper and lower bounds of our fair value estimate range.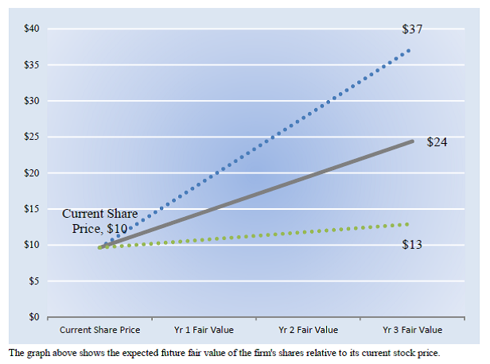 Motley Fool newsletter services recommend Southwest Airlines. The Motley Fool has no positions in the stocks mentioned above. Valuentum has no positions in the stocks mentioned above. Try any of our Foolish newsletter services free for 30 days. We Fools may not all hold the same opinions, but we all believe that considering a diverse range of insights makes us better investors. The Motley Fool has a disclosure policy.
Valuentum Securities Inc. is an independent investment research provider, offering premium equity reports and dividend reports, as well as commentary across all sectors/companies, a Best Ideas Newsletter (spanning market caps, asset classes), a Dividend Growth Newsletter, business/investing book reviews pre-public release, modeling tools/products, and more. Independence and integrity remain our core, and we strive to be a champion of the investor. Valuentum is based in the Chicagoland area.