Is MasterCard's Transaction a Buy or Sell?
Ryan is a member of The Motley Fool Blog Network -- entries represent the personal opinion of the blogger and are not formally edited.
MasterCard Incorporated (NYSE: MA) is a global payments and technology company. It unites consumers, financial institutions, merchants, governments, and businesses worldwide. MasterCard allows the users to use electronic forms of payment, opposed to cash and checks. Offering a wide array of payment solutions that allow its customers to develop and utilize credit, debit, prepaid, and other related payment programs, MasterCard has extensively outperformed the broader market over the past decade. Rising 845.69% over the past 10 years, MasterCard has trampled the S&P 500, which has only risen 10.34% over the same time period. This incredible ascent has brought on analysts stating that the stock has gone up too far too fast, and is now overvalued. However, MasterCard is still financially strong, and is at the forefront of the coming mobile revolution. So is MasterCard a screaming buy or bubble waiting to be burst?
Rock-Solid Fundamentals
In 2009, MasterCard reported earnings per share of $11.20. In 2014, the average analyst consensus believes that the company will derive $30.50 from its business operations. This represents an increase of 172.32% over 5 short years, a marvelous feat for a company of any size. Based on these statistics, the company's compound annual growth (CAGR) is 22.18%, a remarkable rate. MasterCard's growth is unfaltering, growing each and every year through this time period. Additionally, at the moment MasterCard pays out an annual dividend of $1.20, which at the current price, puts the company's dividend as yielding 0.28%. This is up from 2011's annual dividend of $0.60, and is further expected to expand into the future. By 2014, the street anticipates the dividend to reach $1.40, which at the current price yields 0.33%. From this we can see MasterCard's financial strength, as well as its meager dividend.
The chart below displays MasterCard's sales, operating profit, net income, net margin, operating margin, earnings per share, dividend, and rate of dividend (the percentage of net income that is paid out in the dividend) over the foreseeable future.
The Mobile Wallet Revolution
The world is becoming more mobile, convenient, and fast as each day passes. Plastic credit and debit cards are not a part of the definition of tomorrow. These small slivers of plastic are easy to lose, can be very touchy with the sensors, and only have one use. Recently, MasterCard announced PayPass Wallet Services, a digital wallet platform. This platform supports NFC, and has attracted eighteen financial institutions to already sign up, including American Airlines and Barnes & Noble. This announcement is a strategic move into the digital wallet arena, which will prove to be the way billions of people make transactions in the future.
Another aspect of MasterCard that is particularly advantageous is its business model. The company derives small fees from every credit and debit card purchase for expediting transactions. However, it is the banks, such as JPMorgan Chase, that provide the real money for these transactions, leaving the banks with all of the risk. Every time a card is swiped with the MasterCard logo, they make money. So the more transactions that occur, the more money they will make. As the chart below displays, the amount of transactions is rapidly increasing, and all MasterCard will have to do to grow at sizable speeds, is to maintain their market share position.
The chart below displays the average consensus of MasterCard's forward looking transactions processed.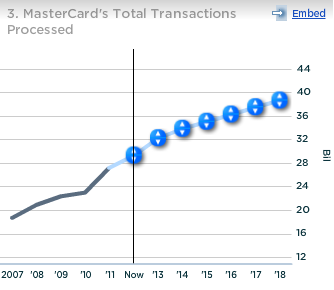 Who is the Industry Trailblazer?
Compared to some of MasterCard's most prominent competitors, such as: Visa Incorporated (NYSE: V), Discover Financial Services (NYSE: DFS), Capital One Financial Corporation (NYSE: COF), and American Express Company (NYSE: AXP), MasterCard relates moderately favorably.
| | | | |
| --- | --- | --- | --- |
|   | 2009-2014 EPS Growth | Current Dividend Yield | 2009-2014 Dividend Growth |
| MA | 172.32% | 0.29% | 133.33% |
| V | 169.03% | 0.69% | 143.18% |
| DFS | 61.16% | 1.04% | 433.33% |
| COF | 635.71% | 0.36% | 113.21% |
| AXP | 241.56% | 1.41% | 33.33% |
|   |   |   |   |
|   | Price/Earnings Ratio | Price/Earnings/Growth Ratio | Net Profit Margin |
| MA | 25.11 | 0.92 | 28.38% |
| V | 125.38 | 0.95 | 39.73% |
| DFS | 8.94 | 1.22 | 26.04% |
| COF | 9.37 | 0.95 | 17.81% |
| AXP | 13.27 | 1.07 | 15.00% |
In terms of growth, Capital One Financial is the industry leader, while Discover is a laggard. All companies in the industry pay out dividends that are close to yielding 1.00%, with American Express possessing the largest dividend, and with Discover possessing the fastest growing dividend. In the fundamental ratio comparison, Discover is on the cheap side, while Visa appears to be trading at a large premium to its peers. All companies trade around the ideal multiple of 1 when growth is taken into account. In the net profit margin comparison, Visa stands out to the upside, while American Express stands out to the downside.
The Foolish Bottom Line
MasterCard has been on an absolute tear over the past decade. The company now trades with a price to earnings ratio that is well above the average, but this multiple is justified by MasterCard's fast-paced growth. MasterCard is financially strong, and possess an annualized growth rate that should carry the stock higher over the long-term. Additionally, MasterCard has entered the transaction portal of tomorrow, and should significantly benefit from the increase in transactions projected over the coming years. Its business model is ideal, giving them a cut of every transaction with little to none of the risk. The foolish bottom line is the MasterCard is an ideal stock for the long-term investor that believes in the strength of the global economy.                    
makinmoney2424 has no positions in the stocks mentioned above. The Motley Fool owns shares of MasterCard and has the following options: short OCT 2012 $55.00 puts on American Express Company, short OCT 2012 $60.00 calls on American Express Company, and long OCT 2012 $65.00 calls on American Express Company. Motley Fool newsletter services recommend American Express Company and Visa. Try any of our Foolish newsletter services free for 30 days. We Fools may not all hold the same opinions, but we all believe that considering a diverse range of insights makes us better investors. The Motley Fool has a disclosure policy.If you have questions about this post or the Fool's blog network, click here for information.