The King of Retail
Ryan is a member of The Motley Fool Blog Network -- entries represent the personal opinion of the blogger and are not formally edited.
The retail business is a fierce and deadly one. Smaller, poorly funded retailers will be gone before most people can get the time to go down to the store, swallowed up by big-box retailers. So it is of no surprise that Wal-Mart Stores Incorporated (NYSE: WMT) is known as the king of retail. As of last count, Wal-Mart possessed 8,970 stores worldwide. The chart below displays the countries Wal-Mart occupies.
Recently, Wal-Mart reported second quarter results. The following summarizes the report.
Earnings rose 5.7% year over year on strong international sales and same-store-sales growth
Raised and narrowed estimate for full year earnings to $4.83 to $4.93
Second quarter profit of $4.02 billion, or $1.18 a share
Revenue grew 4.5% year over year to $114.3 billion, falling short of $115.75 billion analyst estimate
Operating margin fell to 5.6% from 5.8%
International sales rose 6.4%
Excluding fuel, same-store sale rose 2.2%, inside the previously estimated 1% to 3% range.
Excluding fuel, same-store sale growth at Sam's Club ascended 4.2%, inside the company's 4% to 6% range.
The street was disappointed, causing shares to fall 2% to 3% in premarket trading. So is the drop in the king of retail a chance to buy, or is it a chance to take profits after a 25% run up year to date?
Superior Fundamentals
In 2002, Wal-Mart reported earnings per share of $1.50. In 2012, the average analyst consensus believes Wal-Mart will derive $4.52 from its business operations. This represents an increase of 201.33% in earnings over the decade, an admirable feat for the largest retailer in the world. Based on these statistics, the company's compound annual growth rate is 11.66%. Wal-Mart's growth is as consistent and stable as it comes, increasing its earnings per share each and every year during this time period. Additionally, Wal-Mart currently pays out an annual dividend of $1.60, which at the current price, puts Wal-Mart's dividend as yielding 2.14%. This dividend is up from 2011's annual dividend of $1.48, and is further expected to expand into the future. By 2014, the street anticipates Wal-Mart's annual dividend to reach $1.95. This displays projected 21.86% growth in the dividend over just 2 years, a steady rate of expansion. Wal-Mart has been paying out continuous dividends since 1987, with a minor blip in 2006, and will continue to pay out dividends well into the future. From this we can see Wal-Mart's underlying financial strength, double digit annualized growth rate, and long string of dividend payouts.
The chart below displays Wal-Mart's sales, operating profit, net income, net margin, operating margin, earnings per share, dividend, and rate of dividend (the percentage of net income that is paid out in the dividend) over the coming years.
What History Can Tell Us about Wal-Mart's Future
The past 10 years for Wal-Mart's stock has been known as the lost decade to investors. From 2000 to 2010, Wal-Mart declined 22.68%, a horrid performance for a stock during any ten year period. However, recently Wal-Mart shares have exploded to new all-time highs. The chart below displays what has happened to Wal-Mart shares every time they have broken through long-term resistance.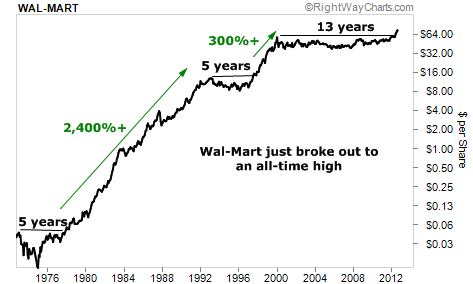 While it is improbable that Wal-Mart will rise even 300% from its current levels, all-time highs are extremely significant, and could fuel further acceleration in share prices.
Additionally, Wal-Mart has a long standing history of consistently growing both earnings per share and dividends over the past decade. The chart below displays this phenomenon, and how it benefits shareholders.
These trend lines are distinct and firm, and are pointing in the right direction. Wal-Mart is able to grow its dividend at such an accelerated pace due to its tremendous earnings per share growth. This allows its dividend's growth rate to be sustainable, which keeps the trend healthy.
Finally, since Wal-Mart shares have been steady for the past decade, and earnings per share have just continued to grow, the stock has become historically cheap. Wal-Mart has not been trading at this discounted multiple since the 1980's, as the chart below displays.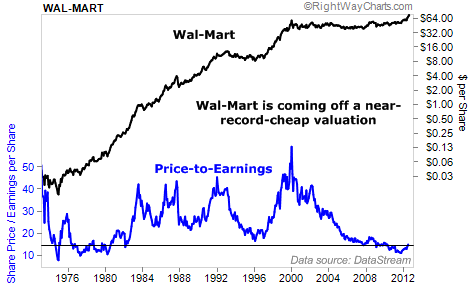 In conclusion, Wal-Mart shares are breaking out to new all-time highs, have consistency grown its earnings per share and dividend year after year, and is historically cheap.
Who is the King of Retail?
Compared to some of Wal-Mart's most prominent competitors, such as: Target Corporation (NYSE: TGT), PriceSmart Incorporated (NASDAQ: PSMT), Costco Wholesale Corporation (NASDAQ: COST), Dollar General Corporation (NYSE: DG), Wal-Mart relates relatively in-line.
| | | | |
| --- | --- | --- | --- |
|   | 2009-2014 EPS Growth | Current Dividend Yield | 2010-2015 Dividend Growth |
| WMT | 57.02% | 2.21% | 78.90% |
| TGT | 70.63% | 2.26% | 168.66% |
| PSMT | 98.79% | 0.83% | 0.00% |
| COST | 95.95% | 1.15% | 88.24% |
| DG | 389.55% | 0.00% | 0.00% |
|   |   |   |   |
|   | Price/Earnings Ratio | Price/Earnings/Growth Ratio | Net Profit Margin |
| WMT | 15.45 | 1.38 | 3.55% |
| TGT | 14.61 | 1.17 | 4.19% |
| PSMT | 34.97 | 1.33 | 3.55% |
| COST | 26.81 | 1.75 | 1.64% |
| DG | 21.38 | 0.99 | 5.18%   |
In terms of growth, Dollar General is unmatched, while Wal-Mart displays the slowest paced growth. All companies, except for Dollar General, pay out dividends, with Target possessing the largest and fastest growing dividend. In the fundamental ratio comparison, Target appears to be trading at a decent multiple, while PriceSmart trades at a premium. When growth is taken into account, Dollar General trades at the ideal ratio of 1, while Costco appears inflated. In the net profit margin comparison, all companies possess low margins as they try to balance value and profits.
The Foolish Bottom Line
Wal-Mart is the closest thing to a recession-proof company, other than utilities, as customers run to Wal-Mart's low prices in times of downturn like bees do to honey. Over the past decade Wal-Mart has persistently grown its earnings per share, yet the share price has remained steady. This has created a stock with a historically low multiple. Additionally, Wal-Mart's underlying financial business is strong, expected to continue to grow at its annualized double digit rate. Finally, Wal-Mart has broken through a key level of resistance, and should continue to raise its dividend in accordance with its past rate. All in all, the recent pull back in Wal-Mart has created a huge opportunity to buy shares of the unmatched king of retail.