Why Coca-Cola isn't Fizzling Out
Ryan is a member of The Motley Fool Blog Network -- entries represent the personal opinion of the blogger and are not formally edited.
The Coca-Cola brand is one of the most globally recognized trademarks in the world. According to a recent statistic released by Steel Media, the red and white Coca-Cola logo is recognized by 94% of the world's population. 3.1% of all the beverages consumed around the world are Coke products, with 1.7 billion trademarked drinks being consumed a day. According to BrandZ Top 100, The Coca-Cola brand is worth $74 billion, more than Budweiser, Pepsi, Starbucks, and Red Bull combined. There is no denying that Coke has been engraved in the fiber and history of the world, and that their revenues make it the 84th largest economy in the world, just edging out Costa Rica. As The Coca-Cola Company (NYSE: KO) approaches a historical resistance line, will it just fizzle out, or pop to new all-time highs?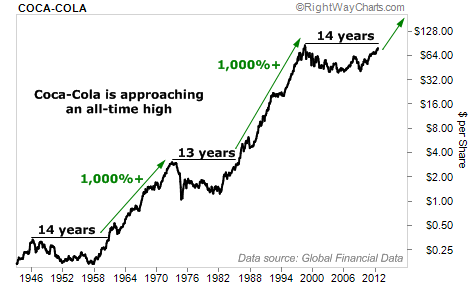 Fundamentals Not On a Sugar High
In 2009, The Coca-Cola Company reported earnings per share of $2.93. In 2014, the average analyst consensus believes Coke's earnings per share will reach $4.73. That represents an increase of 61.43% over just 5 short years. Based on these statistics, The Coca-Cola Company's compound annual growth rate (CAGR) is 10.05%, an outstanding figure for a company currently worth $177.35 billion. They take a wild ride in the beginning years of this timeline as earnings suddenly accelerate, and then decelerate, yet over the five years, earnings per share do end higher.
Currently, The Coca-Cola Company pays out an annual dividend of $2.04, which at the current price of $78.79, puts its dividend as yielding 2.59%. Coca-Cola's dividend is up from 2011's annual dividend of $1.88, and is further expected to grow. By 2014, the street projects Coke's dividend to be $2.44. This displays 19.61% dividend growth over two years, a sizable figure. The company's dividend has increased every year since 1962, and this trend will not be broken any time soon. All in all, Coca-Cola has moderate growth headed in the right direction over the long-term, as well as a substantial dividend that has been raised every year since 1962.
The chart below displays The Coca-Cola Company's sales, operating profit, net income, net margin, operating margin, earnings per share, dividend, and rate of dividend (the percentage of net income that is paid out in the dividend) over the coming years.
The Monopoly Coca-Cola Has On the Industry
Coca-Cola is undisputedly a global leader in the beverage industry, deriving more revenue from its beverage operations than any other company in the world. Coke possesses a vast network of distribution channels that the company uses to get its products to the customer. The Coca-Cola Company withholds nearly 2.8 million vending machines, which if stacked up would take up the space of 4 Empire State buildings. Their immense distribution channels allow them to take their newly developed product, such as Coca-Cola Zero, and almost instantaneously have it in the hands of millions of consumers. Coca-Cola Zero, which was introduced in 2005, topped $1 billion in revenue in only 4 years, because of the company's ability to have the product distributed and available to nearly the entire world.
Other smaller companies cannot match Coca-Cola's revenue because they simply cannot get the product to the consumer as fast and efficiently as Coke. Coca-Cola's monopoly on this sector of the industry allows the company to grow consistently, as they use their immense power to leverage for the launches of new products. Another benefit of this system is that they do not need to create a new blockbuster product; they could just acquire another product and use their distribution channel, creating billions in revenue. Coca-Cola's supreme distribution channel allows the company to constantly grow, as they fill the world's shelves with their products. The chart below displays a map of the diverse regions The Coca-Cola Company operates in, and how much volume sold in each region.       
Who is The King of Pop?
Compared to some of Coca-Cola's most prominent competitors, such as: PepsiCo Incorporated (NYSE: PEP), Dr. Pepper Snapple Group Incorporated (NYSE: DPS), Monster Beverage Corporation (NASDAQ: MNST), National Beverage Corporation (NASDAQ: FIZZ), The Coca-Cola Company stacks up relatively in-line.
| | | | |
| --- | --- | --- | --- |
|   | 2009-2014 EPS Growth | Current Dividend Yield | 2009-2014 Dividend Growth |
| KO | 61.43% | 2.59% | 48.78% |
| PEP | 28.38% | 2.98% | 37.08% |
| DPS | 62.67% | 3.02% | 933.33% |
| MNST | 175.68% | 0.00% | 0.00% |
| FIZZ | 43.66% | 0.00% | 0.00% |
|   |   |   |   |
|   | Price/Earnings Ratio | Price/Earnings/Growth Ratio | Net Profit Margin |
| KO | 20.85 | 2.38 | 18.33% |
| PEP | 19.00 | 3.14 | 9.69% |
| DPS | 16.16 | 1.68 | 10.27% |
| MNST | 30.31 | 1.43 | 16.80% |
| FIZZ | 14.89 | 1.87 | 7.00% |
In terms of growth, Coca-Cola stands in the middle of the road, while Monster scares the industry with its triple digit gains. The Coca-Cola Company, PepsiCo, and Dr. Pepper Snapple Group all pay out dividends in the 2%-3% range, with Dr. Pepper Snapple possessing the largest and fastest growing dividend. In the fundamental ratio comparison, Dr. Pepper Snapple appears to be trading at an ideal price, while Monster trades at a premium. When growth is taken into account, PepsiCo looks expensive, while Monster appears to trading at the most reasonable level. In the net profit margin comparison, Coca-Cola stands out to the upside, while the National Beverage Company stands out to the downside.
The Foolish Bottom Line
The Coca-Cola Company is a global leader in the beverage industry. They will not be going out of business any time soon. Their brand is recognized by nearly the entire population of the world, and is part of the world's history just as much as or more so than any other company in the world. They possess rock-solid growth, a sizable and expanding dividend, and the most efficient and dominant distribution channel in the world. Despite these facts, Coke may have become slightly inflated as investors have sought out safe havens. With a price to earnings ratio of 20.85 for a company growing at an annualized 10% clip, Coca-Cola may be a little expensive. Over the long-term, Coca-Cola is as a good as it gets, as they will be able to grow their earnings and dividend at a consistent rate, providing increasing wealth to its investors.