Abercrombie & Fitch Profits are Falling Down, Right Along with Its Pants
sylvia is a member of The Motley Fool Blog Network -- entries represent the personal opinion of the blogger and are not formally edited.
Abercrombie & Fitch (NYSE: ANF) recently reported that its worldwide profits plunged 52 percent  in the second quarter, as a key sales figure fell 10 percent, according to The Washington Post. In the U.S., the figure declined for the first time since 2009.
In June, the company unveiled plans to close 180 stores over the next few years, according to the Wall Street Journal. Over 70 stores have already been shut down.
My satirical response last year to the New Albany, Ohio-based company's disgraceful padded, push-up bra for little girls went viral and is still going strong. But Abercrombie is going to the same lengths and depths as before, judging by its billboard, shown above. Its marketing, which manages to be both silly and perverse, seems oddly over the top, given the blandness of its merchandise.
The public controversy over its racy ads aimed at teens and young adults seems to have done little to change its sales strategy. But maybe the plunge in its stock prices will seduce the firm into a different direction.
It is heartening that today's young people, who have grown up in such a porn-drenched culture, prefer apparel and advertising that have a bit of modesty and dignity.
"Today's teens are underwhelmed by the half-naked models and blaring, dimly lit stores," the San Francisco Chronicle speculated.
"The once-edgy retailer has lost a third of its market value in the past year as it grapples with falling sales in Europe and the U.S.," Business Week reports.
In contrast, at The Gap (NYSE: GPS), shares have climbed after the company announced that net revenue for August rose 9 percent as compared to net revenue during the same period of 2011. The clothing featured on its website is comfortable, classy and hip. The firm also owns clothing and accessories stores Banana Republic, Old Navy and Piperlime.
Upmarket Swedish multinational H&M (BST: HM) reported that pre-tax profits had jumped nearly a quarter in the past three months as its newest collections had received an enthusiastic response, in spite of the economy. Teen retailer Hot Topic (NASDAQ: HOTT) reported an increase in sales of 6.4
A&F has taken some "baby steps" in cleaning up its act with respect to its attire for little girls in the year since another of my posts presented an appalling array of "sexy, flirty" outfits for youngsters. It added  that the firm offered a line of perfumes especially formulated for the body chemistry of children. For example, "Hadley" is "wild, fresh, juicy and a little sweet. It's for spontaneous, flirty girls, who are always up for love, laughter and fun."
Abercrombie has removed the word "flirty" from this description, although "juicy" seems equally icky. A one-ounce bottle is $30.

Last year, there was little if any difference in the clothing that was marketed to young adult women and to pre-pubescent girls, and that is still largely the case. However, the "boudoir" sensibility has been diluted slightly in items marketed to girls, if only by making more options available.  Shorts and skirts for young ladies of all ages are not designed for anyone who needs to sit down or bend over, unless she is comfortable providing an excellent view of her (undoubtedly delightful and designer) underpants. Many of the childrens' "blouses" look like lingerie, and until recently, they were characterized on the A&F Kids site as "sexy and flirty." The word "sexy" no longer appears on the site at all. The word "flirty" is applied to the strapless blouse, shown in pink below. But all those silky, lacy camis that used to be called sexy and flirty are still available.  For example, these are offered in girls' sizes 6 to 12:
Are we, as a nation, ready for first-grade wardrobe malfunctions? This new item is called "Randi." Gee, I wonder why: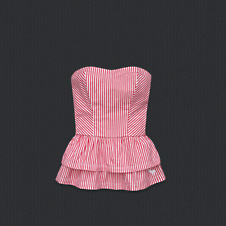 The skirts and shorts are so teensy, our darling daughters might feel "in the mood" for a child-porn audition. One wrong (or right) move, and everything would be "out there." It would be "Lolita" all over again.
Wouldn't your 9-year-old feel special in this dress, especially with some sheer black pantyhose? Do they make stilettos for children yet? If not, what is the problem?? Someone wisely took this scampy item out of circulation several months ago: 

But now your fresh-faced little sweetie can go strapless instead: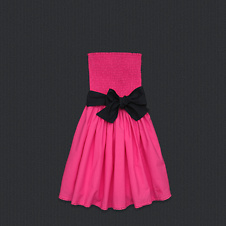 The puzzling thing is that Abercrombie has for years chosen to sexualize little girls, but post-puberty it focuses on males. Its ads for young adults usually don't include any women, and in the ones that do, the females are generally second bananas, so to speak.
Abercrombie's ads targeting young adults beg the question: Why buy clothes? The photos depict a nearly-nude lifestyle in which one is occasionally obliged to slip on (but not zip up) some baggy jeans or khakis. What's really important is your bod, babe. So why doesn't Abercrombie just open a chain of health clubs and develop a line of muscle-man nutritional supplements, and forget about clothes, since they are so irrelevant to the A&F dream world?                                                            
Not there's anything wrong with this, either.
Don't forget to look at the jeans:
Abercrombie is all about "concept" and "fantasy," and CEO Michael Jeffries says the goal is for each clothing line to reflect an "inspiring story" about how to live one's life. If this is what he has in mind, no wonder he's losing money:
   Enough said!

kronstantinople has no positions in the stocks mentioned above. The Motley Fool has no positions in the stocks mentioned above. Try any of our Foolish newsletter services free for 30 days. We Fools may not all hold the same opinions, but we all believe that considering a diverse range of insights makes us better investors. The Motley Fool has a disclosure policy. If you have questions about this post or the Fool's blog network, click here for information.