Is More, Less?
Callum is a member of The Motley Fool Blog Network -- entries represent the personal opinion of the blogger and are not formally edited.
American Ingenuity
Everyone knows that Apple Inc (NASDAQ: AAPL) is considered to be one of the most innovative companies in the world, creating entire markets with revolutionary products like the iPod, iPhone, and iPad. Entire markets might not exist if Apple hadn't thought up some new device deep in its R&D research facilities. Compare that to Microsoft Corp's (NASDAQ: MSFT) innovative track record. It failed to get into the digital camera market a while back. It failed to get into the smartphone market early on when the smartphone revolution was just beginning. It also failed at being a "first-player" in the tablet market, and has just begun making its first tablet while many other players like Apple and Amazon Inc (NASDAQ: AMZN) are already on their 2 or 3 models. Amazon, an online retailer, beat Microsoft, a massive software company, to the punch with its Kindle Fire and is soon to come out Kindle Fire 2. While Apple controls 68.2% of the tablet market and Amazon controls 5%, Microsoft sits at zero percent. Why is this? Why did Apple and Amazon beat Microsoft to the punch?
CEO's
Many say the success of Apple and Amazon is because of their management--more specifically, their CEO's. People say that the late Steve Jobs was one of the best CEO's in the history of mankind. Others think Jeff Bezos has revolutionized the boring retail sector by offering any product at discount prices that can be delivered to your house in just a few days. On the other side of the coin, people say Steve Ballmer is responsible for the decade long stagnation of its stock price and its lack of innovation and being on top of the ball. While no doubt Jobs and Bezos deserve a lot of credit for the great companies they made, and Ballmer is one large part of the problem at Microsoft, I don't think you can simply blame Ballmer for ALL the problems at Microsoft. Other parts must be at play, so I will move the stigmas around Ballmer in a different light.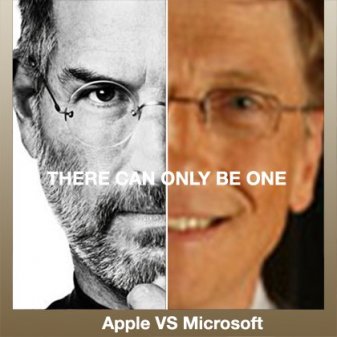 So is More really Less?
One thing I find striking is how much Microsoft pays for R&D spending compared to Apple. Apple spends 2% of sales on R&D, which equals out to be $2,429,000,000 annually. Microsoft is much higher up on the list, spending 13% of sales on R&D, which is $9,811,000,000 annually. Plus, Microsoft has 30 different R&D centers around the world, while Apple has 1 in Cupertino and a few others dotted around the globe.. Even farther up the scale is Intel Corp (NASDAQ: INTC), which spends 15% of sales on R&D, $8,350,000,000 annually. Compare that to Amazon, which over the past five years has averaged spending 1.3% of sales on R&D. Now, if I were to rank these companies based on innovation, I would put Apple first, then Amazon, then Intel, and at the end would be Microsoft. Intel has been innovative in its own right, but it should have gotten into the smartphone and tablet market sooner. While some of you would probably put this in a different order, it doesn't change the fact that two of the most innovative companies in the world spend very little on R&D compared to sales.
Life Lesson
While this isn't very concrete, I used to know someone who worked at Microsoft, and they told me a story about one of the divisions within Microsoft. He told me that within the Media division, Microsoft had 1,000 people doing the job that 50 people could do. Eventually that division was broken up, and the programmers who Microsoft wanted to keep were merged into Windows while the rest were let go. The thing I want you to take away from this is that just because you have plenty of people working in R&D, doesn't mean you will get the innovation you want. You can get too many workers trying to do too many things at the same time. This was a problem Apple faced before Steve came back to be CEO. Pre-Jobs, Apple was a major player in both the digital camera market and the laser printing market. But, Steve recognized Apple was spread too thin and consolidated Apple around a few core products. This consolidation led to Apple becoming streamlined and efficient, which eventually led them to having their core products being cash cows as they didn't have a lot of "fat' eating into their profits. One thing Steve Jobs did to encourage innovation was to create a focal point where the workers would run into each other, because "creativity comes from spontaneous meetings, from random discussions." While at Pixar, Steve wanted a building around a central atrium to encourage random conversations. Microsoft does something similar in their main HQ in Seattle, where there is a large eating complex where workers can run into each other. Maybe Apple's success is based on being slimmed down and lean, where Microsoft is just spread too thin over too many sectors. That being said, both Amazon and Google Inc (NASDAQ: GOOG) have done very well and they have been spread across several markets, from online retail to cloud computing to driverless cars to tablets. Google doesn't fall under the same category as Amazon and Apple, as it spends 13.6% of sales on R&D, but unlike Microsoft, its R&D budget has enabled them to be innovative across a bunch of sectors. The driverless car could be huge in the future. When someone might get out of the pub at 1:30 in the morning and be too drunk to drive, they could simply get into their Google Car and let the software do all the work. This could help drastically reduce car accidents in the future.
Final Thoughts
There clearly is a difference between useful and wasteful research and development spending. While some companies like Amazon and Google can do it all, aggressively move into multiple sectors and still grow their profits, others like Apple prefer to not make wasteful non-core acquisitions and to stick to what they do best, creating entire new markets for them to dominate in, like the iPad and the tablet market or the iPhone and the smartphone market. While Intel, Microsoft, and Google all spend double digit percentage amounts of sales on R&D, only Google has really seen the money pay off in the form of new innovative products and better profits. Both Intel and Microsoft have seen their stock stagnate over the past 11 years. Maybe Intel and Microsoft should stop shuffling so much money into R&D and rethink their entire approach. Microsoft has 30 R&D centers around the world, and Intel is at 53, but where is the innovation? Maybe both of these companies should take a lesson from Steve Jobs, and just have a few core R&D centers with a central atrium workers can go to and bump into one another. While I'm sure you all have your own opinions on how innovative these companies are and what the problems/successes of each of these companies face, this is just my take.