Tablet Wars
Callum is a member of The Motley Fool Blog Network -- entries represent the personal opinion of the blogger and are not formally edited.
Tablets Galore
This article will go into the tablet market, see how well each player is doing, and see what we should expect in the months to come. The tablet market is growing rapidly, and smart investors will be able to cash in big if they play their cards right.
Playing with Fire
Amazon Inc (NASDAQ: AMZN) makes the Kindle e-reader and the Kindle Fire, a low tier tablet that competes with Apple Inc's (NASDAQ: AAPL) iPad and other players in the tablet market. The Kindle Fire currently holds, according to IDC, 5% of the tablet market, which is tiny compared to the 68.2% share Apple holds, as it sold 17 million iPads in the second quarter. In the second quarter of 2012, Amazon shipped 1.25 million Kindle Fires. Samsung Electronics Co Ltd holds 9.6% of the market with 2.4 million tablets shipped last quarter. The overall tablet market grew 66% year over year.
Up and Coming!
Amazon is expected to roll out the Kindle Fire 2 before the Christmas spending spree begins, possibly in September. While there is no price tag yet on the Kindle Fire 2, it will probably be priced very aggressively in order to compete with the other non-iPad tablets, somewhere around $199-$249. I don't see Amazon trying to price this much higher than that, as an increasing amount of competition will keep prices low. This is very important for Amazon, as both Google Inc (NASDAQ: GOOG) and Microsoft Corp (NASDAQ: MSFT) are planning on rolling out new tablets very soon. Google unveiled its newest tablet, Nexus 7, at the Google I/O conference in San Francisco. The Nexus 7 is being built by ASUS and will cost $199 for the 8GB model and $249 for the 16GB model, and Google will throw in a $25 credit for Google Play, its online marketplace, for a limited time to get buyers interested. Microsoft is makings its own tablet, the Windows Surface, but it is going to be competing more with the likes of Apple than with Amazon. While no price tag has been released, most assume that Microsoft will price its tablet around $500 (for the cheapest model), which is about equal to Apple's $499 price tag for the iPad 3 (for the cheapest model).
I don't see Microsoft or Apple being Amazon's biggest threat. In fact, I see it the other way around. Both Microsoft and Apple will be uneasy knowing that a good product is being sold for a much cheaper price than what they have to offer. With Amazon and Google being aggressive in price, then someone who is going to go out and buy a tablet for the family has a choice, 1 iPad or a Windows Surface, or 2-3 Amazon Kindle Fires/Nexus 7's. I think the relatively low price tag on the Kindle Fire 2 and the Nexus 7 will make them a good sell to consumers, especially when you factor in the global growth slowdown. Google is the player Amazon should have its eye on, as should Apple. Another way Amazon and Google will hurt Apple is through profit margins and sales price. It will force Apple to be very careful on its pricing, because if it charges too high a price, then more consumers will just switch to a different device. We have already seen this happen, as the average selling price of the iPad is down 17.7% year over year. Also, and more importantly, older products like the iPad 2 will have a much lower selling price. If a consumer has the option to buy a brand new Nexus 7 or Kindle Fire, or buy an old iPad 2 at a higher price, what do you think the consumer is going to choose?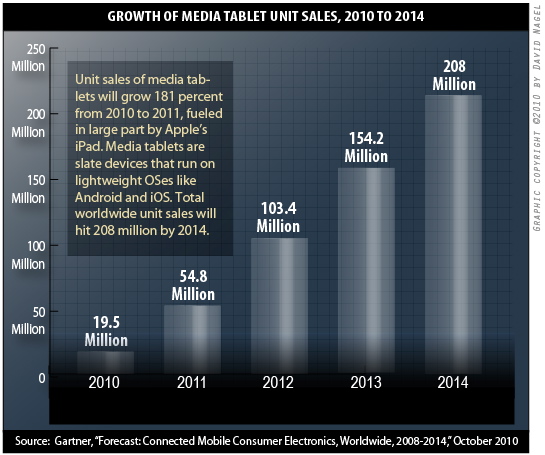 The Google Threat
Other competitors in this area also use Google's Android as the operating system for their tablets, so Amazon, Microsoft, and Apple are fighting a war on multiple fronts. The Nexus 7 is coming out with the newest OS, Jelly Bean, which is Android 4.1. According to techradar.com, the Nexus 7 gets a review of 4.5 out of 5 stars, with the pros being quality hardware, NFC support, the new Android OS, and bundled Google Play freebies, such as the $25 credit for Google Play. The cons are weak IPS display contrast, limited storage options, few Android apps, and some content, like magazines, is hard to read.
In order to fix the limited content problem, Google could "pull a Microsoft" and throw money at developers to get more content on their devices. Google's balance sheet sits around $43.1 billion as of Q2, so it has the cash to do so. The Nexus 7 runs on Nvidia Corp's (NASDAQ: NVDA) 1.3 GZ Tegra 3 quad-core processor, so it does sport some nice hardware. Theinquirer.net also reviewed the Nexus 7 and said that it was a quality device but that it had some problems with color clarity. But, they went on to say that compared to other tablets in that price range (from Samsung and Motorola), it had the best display. In my opinion, it's Google that Amazon will have to compete with in the tablet market. Samsung's 9.6% market share is all run by Google's OS. Google still leads Amazon in the tablet space, and the Nexus 7 will be a game changer in the tablet market. The Nexus 7 gets 4.4 stars out of 5 on Amazon.com, and 4 out of 5 stars on CNET.com.
Where there's smoke there's FIRE
Google is a formidable enemy to Amazon, so how can Amazon counter? Well, they could offer before color clarity and contrast, which seems to be what the Nexus 7 is lacking. They can also compete on price and offer freebies like Google does. I think that Amazon Prime will help the Kindle Fire deal with Google. Jeff Bezos said "Amazon Prime is now the best bargain in the history of shopping – that is not hyperbole. We successfully launched Prime seven years ago with free unlimited two-day shipping on one million items. The price of annual membership was $79. Since then, Prime selection has grown to 15 million items. We've also added 18,000 movies and TV episodes available for unlimited streaming. And we've added the Kindle Owners' Lending Library – borrow 170,000 books for free with no due dates, it even includes all seven Harry Potter books. What hasn't changed since we launched Prime? The price. It's still $79. We're very grateful to our Prime members, and thank them whole-heartedly for the business and for the word-of-mouth that has made this program grow."
All tablets will offer the Netflix app, but not all tablet owners subscribe to Netflix. Where the Kindle can beat Google and the other players is in Amazon Prime, which already has millions of subscribers. Those subscribers can get free TV shows and movies if they own a Kindle Fire. While not every Amazon Prime subscriber will want a tablet or a Kindle Fire, there is no reason not to assume that some of those who shop at Amazon and are Amazon Prime members will want a Kindle Fire. Plus, those who buy a Kindle Fire but aren't Amazon Prime members might want to become one to get the free stuff that comes with membership.
When you go to Amazon.com, on their homepage front and center they have an advertisement for their Kindle products. It doesn't cost them anything to put that up there; millions a day go to Amazon to buy things and the first thing they see is the Kindle Fire. While many will keep on shopping for what they came for, many others will click on this to see what Amazon has to offer. Vertical integration (of sorts) will enable Amazon to get a leg up on Google and the other competitors. Not a lot of information is out on the Kindle Fire 2 yet, so it is hard to tell how much of a game changer this could be. Another thing working in Amazon's favor is that is holds only a small percentage of market share (5%) in a booming market, so it really only has market share to gain, where the iPad holds a huge percentage of the market share (68.2%), so it has a lot of market share to lose. Reviews of the first Kindle Fire were pretty, good, with consumers at Amazon giving it 4 out of 5 stars. Customer reviews on CNET.com were also good, coming in at 3.6 stars out of 5. People aren't ecstatic about the Kindle Fire, but people do like the product.
Apple
Both Google and Amazon are going to be big competitors with Apple. Reviews for both products, especially the Nexus 7, are good to great. How will Apple be able to distance itself away from the other players? Well, it has a large marketplace, full of games, magazines, apps, newspapers, music, podcasts, TV shows, and movies, which was created by the large developer base Apple has managed to attract through its high market share. Plus, it has better display and 4G LTE capacity. The iPad also has the aesthetic value of being an Apple product, and most consumers enjoy being a part of the "Apple family". While this isn't very concrete, my friends who have Apple devices are very happy with their product and usually encourage others to buy one when the topic arises. Apple also has the strongest brand loyalty out there, matched by none. Once you join the Apple family, you stay there forever. The iPad 3 got a 4.5 out of 5 rating on techradar.com, a 4 out of 5 on CNET.com, and a 4.3 out of 5 on Amazon.com.
What Apple must do in order to maintain its dominance is to keep distancing itself from its rivals; one way it is doing this is with Siri and advertising. Now, several smartphones have a voice recognition system, but most consumers don't know that. Apple's advertising campaign shows consumers that they're not just buying a phone, but are buying a companion (creepy). While I don't know how fun Siri would be on a iPad, it would be different than the competitors. While only rumors can support this, the iPad Mini would really help Apple, because it would enable it to compete with Amazon and Google on the lower end of the pricing side. If Apple does make an iPad mini, expect even better things from its tablet division. Last quarter, the iPad saw an 84% year over year growth in sales, which is huge.
Microsoft?
It is still way too early to tell if Windows Surface will be a success or not, but most likely it will compete with Apple both on quality and on price. Because it can run the Office Suite, it may make some headway into the enterprise market. Microsoft does have deep pockets, and with both Windows Surface and their partnership with Nook, it will try and buy, push, and force its way into this market. Several months ago, Microsoft pledged $605 million dollars to Barnes & Noble Inc (NYSE: BKS) to form a partnership with the creator of the Nook. This is just one example of how Microsoft shifts its weight around to try to gain an edge.
Nvidia
Nvidia stands to gain a lot from the Nexus 7, as reviews have been great, the price is competitive, and Nvidia makes the processor in the Nexus 7. While it all comes down to how well Google can sell its new product, if Google does well, as it usually does, then Nvidia will reap some of the rewards.
Final Thoughts
The tablet revolution is still in its early stages and has a long runway ahead of it. Investors shouldn't just look at the small day to day things, but should look at long term trends (such as average selling price), so they don't get caught off guard by a quick swing in consumer preferences. Consumers are fickle, even within Apple's pseudo-cult, and investors should look at all the competitors to get a good view of what is going on within their investments. This isn't a buy or sell recommendation, it is just an overview of the exciting tablet market. There aren't necessarily winners and losers in a market that is growing this fast, but that said, there are companies that are better than others.