Why Natural Gas
Callum is a member of The Motley Fool Blog Network -- entries represent the personal opinion of the blogger and are not formally edited.
In this article I will talk about why natural gas prices have only one place to go (up!) and why natural gas producers are great buys. Also, I will dip into what to expect from the natural gas industry in the next few years.
Natural Gas Production
In the United States natural gas prices as dirt cheap right now, trading around $3.17 (mmBtu), far less than the $12 it was trading at before the financial crash. The reason why natural gas prices are so low is because of a boom in production brought around by hydraulic fracking, or "fracking". According to the EIA, gross withdrawals of natural gas was 23,535,018 million cubic feet in 2006, and in 2011 it was 28,576,117 million cubic feet. A lot of this has to do with the shale boom, as in 2007 shale gas added 0 million cubic feet to the gross withdrawals but by 2009 that had grown to be 3,383,532 million cubic feet. Due to record low prices, many are reducing their capex spending towards natural gas, which will mean less wells will be producing natural gas. This is a bullish sign for natural gas prices.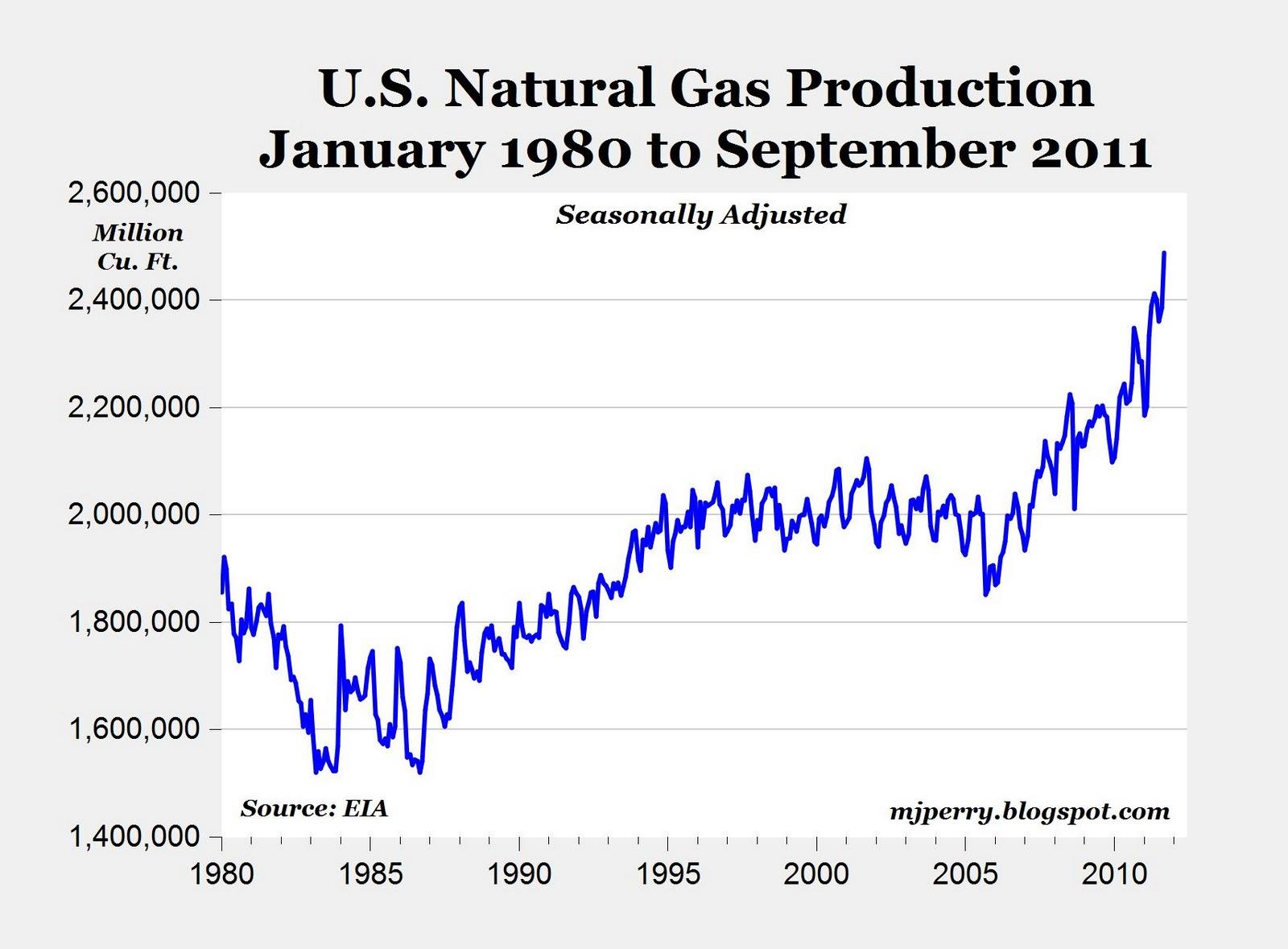 Exporting
The United States and Canada are about to reap the benefits of having large supplies of a cheap energy source. According to Bloomberg and Forbes, the average price for natural gas in Asia is $17 (mmBtu), going as high as $20 (mmBtu) in Japan. Korea, Spain, and Japan are the largest natural gas buyers. In Europe, natural gas is a little cheaper at $12-13 (mmBtu). Now, in order for the US and Canada to get into these markets they have to have LNG export terminals. Several are on their way, such as the one Cheniere Energy Partners is currently building in Louisiana, and the one Royal Dutch Shell is building in British Colombia. The cost of liquidating the "dry gas" to LNG and then exporting it is around $3-4 for mmBtus, so the US and Canada would still be able to sell the LNG at a sharp discount to global prices. When these export terminals are completed, natural gas prices will increase as both countries will be able to export their surplus to the rest of the world. The potential for job creation is enormous is this sector, and it will help the US reign in its trade deficit.
Environmentally Speaking
According to the Environmental and Energy Study Institute, "natural gas burns cleaner than coal and oil, with almost zero sulfur dioxide emissions and far fewer nitrogen oxide and particulate emissions. Natural gas releases almost 30 percent less carbon dioxide than oil and 43 percent less than coal". This is great news for natural gas as nations around the world try and cut back on their coal usage to reign in pollution. In order to cut back on coal usage, politicians have hit coal with plenty of new taxes and regulations. Plus, if the public likes natural gas, then politicians will as well and they will back this industry.
Why Natural Gas Matters
When the United States and Canada starting exporting LNG, this will provide relief to the current supply glut and upwards pressure on natural gas prices as the supply glut would then be able to be exported. Also, it will help the US bring down its trade deficit and would create thousands of jobs. Workers would be needed to work and build the extra natural gas wells, pipelines, and terminals which would be needed to fill a much larger, global demand. This will help bring down the unemployment rate in both Canada and the US.
Falling Surplus
A few months ago the surplus for natural gas was around 850 bcf above last year's average. Now, that has come down to 487 bcf more than last year (from the EIA). This is very bullish news for natural gas, and if this trend continues, by October the surplus could be completely gone, and natural gas prices could easily go back up to $5 mmBtus. Last week natural gas storage increased by 26 bcf, far lower than the increase last year. If the summer remains this hot more people will use air conditioners and power usage will go up. Also, a colder than expected winter would be extremely bullish for natural gas prices. 
How you can benefit
With natural gas prices off their lows, some might wonder if there is any more room for prices to run. In the long term, natural gas prices have only one place to go, and that is up. Exxon Mobil (NYSE: XOM) is one way to play both natural gas and oil. After Exxon's purchase of XTO Energy, it became the largest producer of natural gas in the US. The second largest player, Chesapeake Energy (NYSE: CHK), has 83% of its production in natural gas and is another great play in natural gas in the long term. But, Chesapeake has been in a flurry of scandals recently so tread lightly. Another way to play rising natural gas prices is the ETF United States Natural Gas Fund (NYSEARCA:UNG), which tracks natural gas prices. Any other producer of natural gas should see a bounce in their bottom line as natural gas prices chug upwards.
Competition to Natural Gas
The main competitor to natural gas is coal, but due to low natural gas prices and a push to use cleaner energy (which means tons of new regulations on coal), natural gas seems to be winning. From Bloomberg, "coal remains the leading source of power in the US, but has fallen to 37 percent of U.S. electricity generated during January and February, combined, from 46 percent a year ago, (the) Energy Department show(s)". What is the fuel replacing coal? Well, if you guess natural gas, you are correct. Another important note to add, "Southern (a US utility company), whose energy production is nearly as great as the country of Australia, expects to derive 47 percent of its power from gas this year and 35 percent from coal. Five years ago, the company produced 70 percent of its power from coal and 16 percent from natural gas, Fanning said." As politicians around the world push for cleaner energy, natural gas should benefit as coal will flounder as new taxes and regulations hamper the coal industry. As far as solar and wind goes, according to the US Department of Energy, solar costs 25 cents a kilowatt hour and wind is 14 cents a kilowatt hour. Comparing that to natural gas and coals 3.5 cents a kilowatt hour cost and you can clearly see that wind and solar won't be a major problem for natural gas as an energy source going forward because natural gas is seen as the cleaner alternative to coal. And, on a side note, in Madrid their solar energy costs are 60 cents per kilowatt hour.
Natural Gas to replace oil?
T Boone Pickens (the legendary energy investor) recently stated that he could use natural gas to fuel his car for $1.50 a gallon. Clean Energy Fuels Corp is on its way to build many natural gas fueling stations which will cater to the trucking industry. Those trucks will run on NG engines made from companies like Cummins Inc, and should help natural gas prices as demand increases.
Conclusion
The purpose of this piece is too show why natural gas prices will rise over the next few years and that major natural gas producers and ETFs that track natural gas will be great buys. Natural gas is appearing to be the energy of the future (for at least several decades) as many work towards cheaper solar and wind energy. Not only will natural gas benefit society as it creates far less pollution, but it will help the US and Canada create jobs and provide Asia and Europe with much cheaper LNG, which will help their economy. I am very bullish on natural gas going forward and think the possibilities are endless.
callumturcan owns shares of Chesapeake Energy. The Motley Fool owns shares of ExxonMobil and has the following options: long JAN 2013 $16.00 calls on Chesapeake Energy, long JAN 2013 $25.00 calls on Chesapeake Energy, long JAN 2014 $20.00 calls on Chesapeake Energy, and long JAN 2014 $30.00 calls on Chesapeake Energy. Motley Fool newsletter services recommend Clean Energy Fuels and Cummins. Try any of our Foolish newsletter services free for 30 days. We Fools may not all hold the same opinions, but we all believe that considering a diverse range of insights makes us better investors. The Motley Fool has a disclosure policy.If you have questions about this post or the Fool's blog network, click here for information.